Hi @everyone we just deployed our biggest update yet for Discord integration with 13 more customisation options and tons of other improvements like removing ghost updates and faster schedule calibration algorithms!!!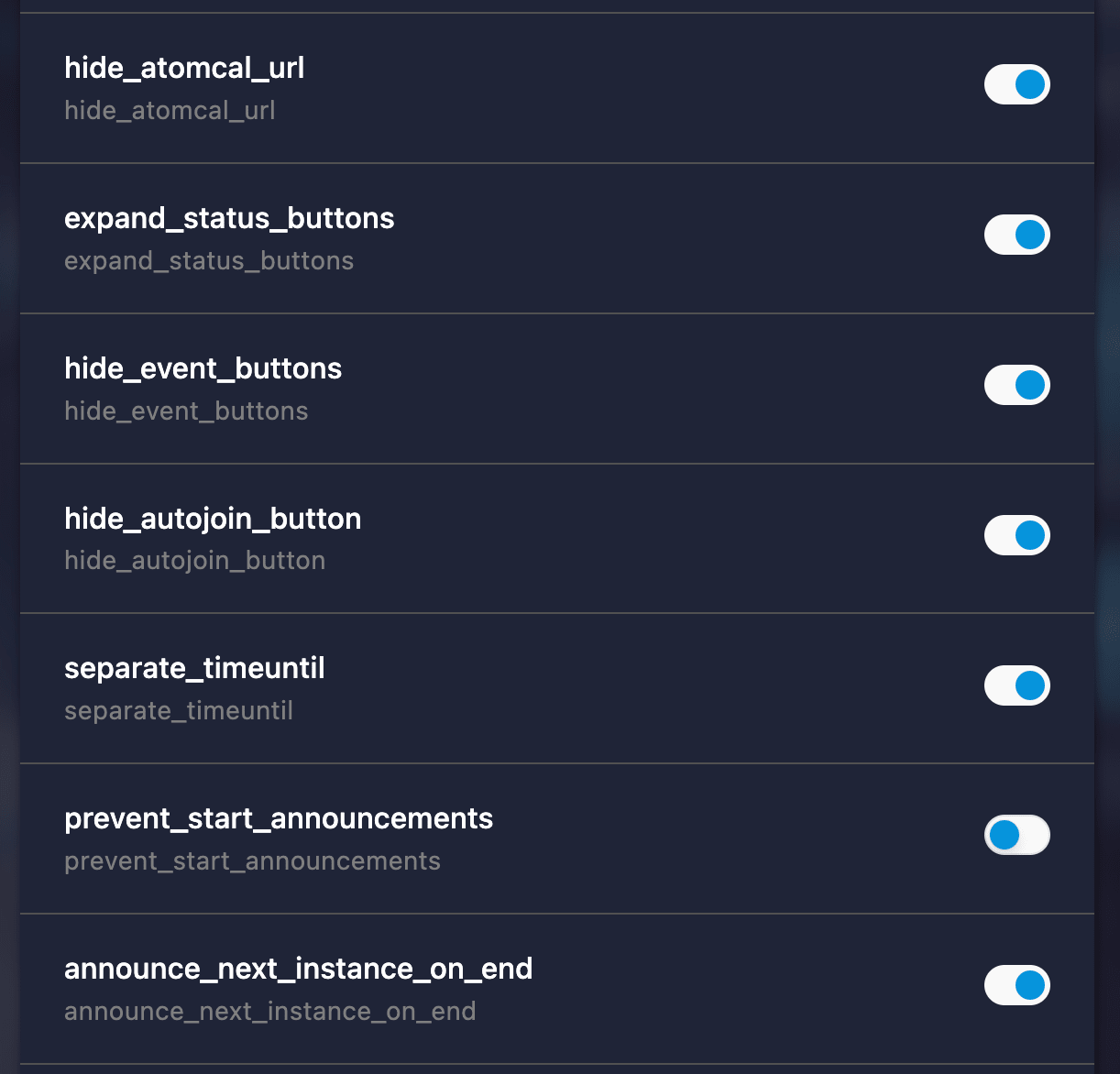 Thanks to Nuadin, Keith Lehman, ☭ Aura ☭, Ying, RoselinedBoulevard, YourturnGaming for their suggestions and feedback!
💡
If you haven't tried Atomcal for the longest time this is the time!
Press expand more options... in connection settings to see these options.
1. "hide_atomcal_url" remove Atomcal URL from Discord event description
2. "expand_status_button" shows all status button if multiple statuses are provided
3. "hide_announcement_buttons" hide Insight & Dashboard buttons from event announcement message
4. "hide_autojoin_button" hide autojoin button if event is recurring from event announcement message
5 "announce_next_instance_on_end" announce next event instance on event end
6 "announce_next_in_line_on_end" announce very next event in-line on event end
7  "delete_announcement_on_end" delete announcement message on event end
8 "prevent_start_announcements" prevent announcement when event starts
9 "separate_timeuntil" combine OR separate time and until strings from schedule message
10 "hide_announcement_thread" hide announcement thread for all events via this option
11 "hide_announcement_message" hide extra text in announcements including this event will start
12 "show_user_tags_in_guest_list" toggle user @ tag in the guest list in threads
13  "expand_guests_in_description" expand guest in descriptions using this option
OTHER FIXES AND IMPROVEMENTS
✓ Fixed the calendar active switch sometimes failing to remember choice and keep asking to select active calendar (reported by @Ternal)
✓ Now one should be able to delete calendars one by one and they should not reappear (multiple reports latest by @toulefan)
✓ Now showing template selection screen first when creating a new calendar instead of asking to select a background  (@terrarum)
✓ Removed daily schedule message to avoid ghost updates (suggested by ) ✓ Stoped sending email asking people to subscribe and that events will stop syncing as they wont now
✓ Fix cleanup when event end to make sure events announcements are cleaned ---
Special thanks to @terrarum @Grpprofesional @BetDexLiam @Rob565 @Teach @Yepa @☭ Aura ☭ @Ternal @Billy Rex @nerdski for the bug reports this week! This is not possible without you guys. Cheers.