Atomcal is the new calendar layer for Discord with a complete calendar experience, which means you can create events in Atomcal (or sync them via Google) and bring them to Discord to share them with your community / friends.
What does this article cover?
What is Atomcal and what does it do
Atomcal at it's core is a stand-alone calendar app that you can use to schedule events, invite guests via emails, create repeating events, create event todos and write event notes, connect third party calendar(s), and much more in a beautiful calendar interface.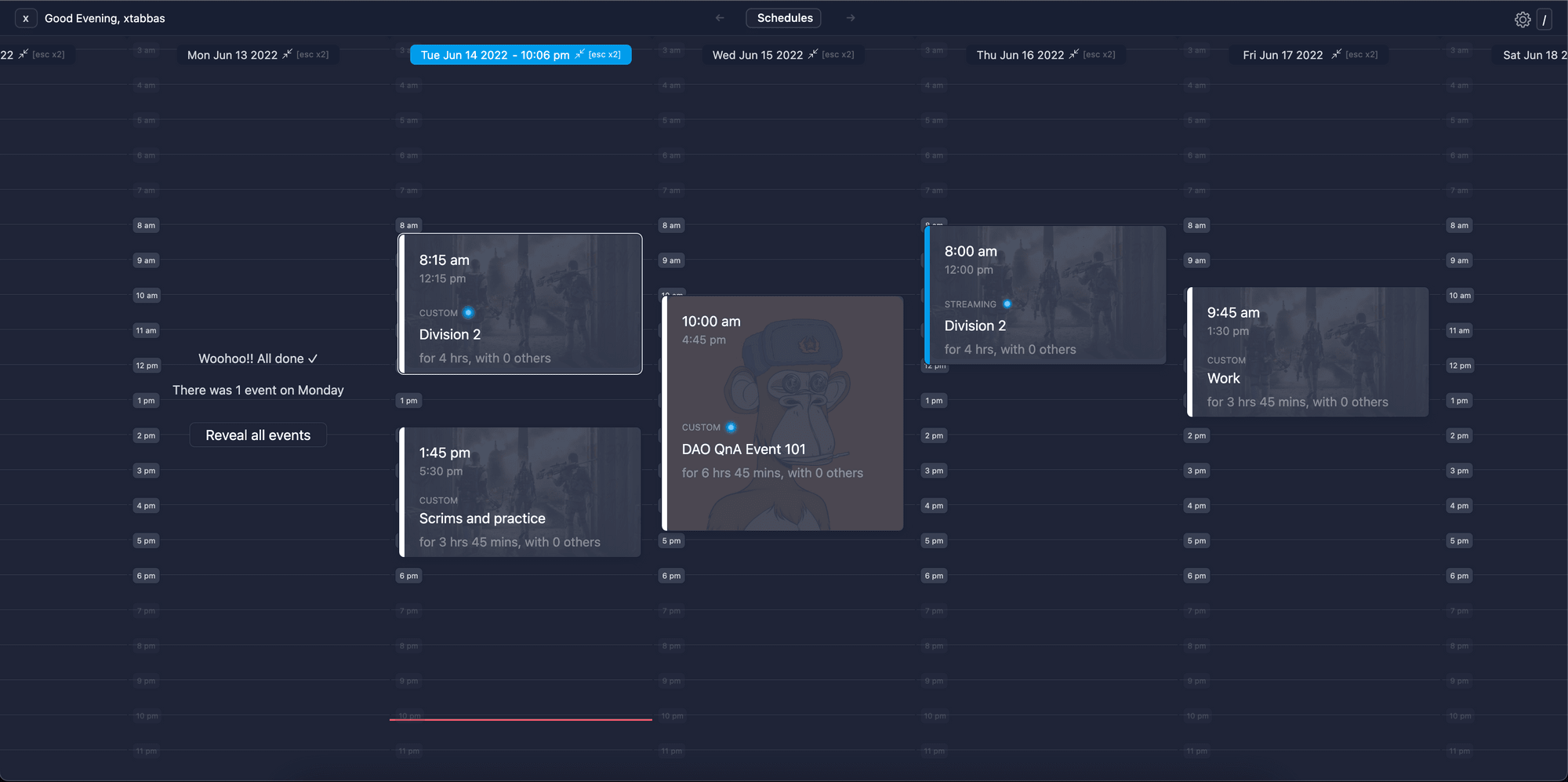 How you can use Atomcal as a Discord calendar
Atomcal also provides a Discord bot, that can be used to share your events on the calendar to your Discord community without any extra effort.
As a community manager this will save hours creating and sharing new events, and ensure great visibility and turnout by auto broadcasting the events into a channel when they are about to start.
Why Atomcal over any other Discord scheduling bot (Apollo/Sesh/Raid)
While the basic(s) of Atomcal are similar to other schedule bots on Discord, the fundamental difference is the ease of creating new events on Atomcal and bringing them to Discord seamlessly.
Along with that, creating repeating events, customizing event guest statuses and using Atomcal as a standalone calendar app and inviting friends / colleagues to your event via email is also possible.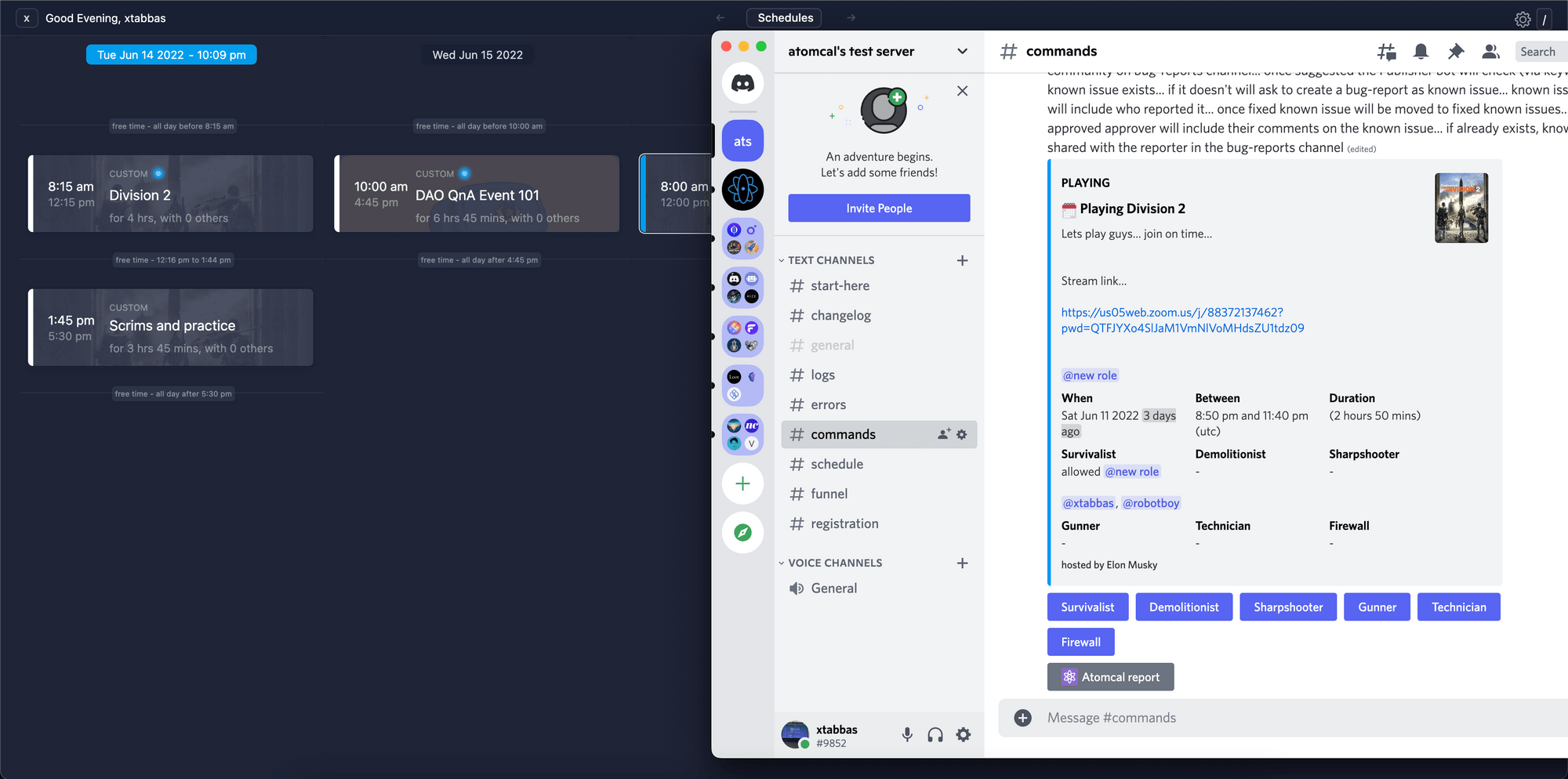 What are Atomcal users saying so far
- Great app interface! I love how easy it is to create an event and bring them to Discord. Also auto broadcasting into a channel help with event visibility
- Love the app so far! It is the best calendar app as it combines my work and gaming schedule! Love it!
How you can install and use Atomcal today
To install Atomcal in your sever, use the install button below. Once you signup, you'll be placed in the waiting list.
Install Atomcal On Discord
Join the Discord community
You can join the support server on Discord and share how you're going to use Atomcal (your use-case) and if it matches with the ideal user profile then you will have immediate access.
What are the future plans for Atomcal
There are many exciting features planned to be shipped in the coming weeks.
Availability sharing
One of the biggest requested feature (and the one that makes most sense to add immediately) is availability sharing directly on Discord. Imagine you want to play a game with a bunch of your friends in different timezones and want to learn when they are available.
Through availability sharing, you can a) Request availabilities in your server via Atomcal Discord bot and b) Mark availabilities on the web interface.
Third party calendar syncing
Since at Atomcal we believe gamers are also professionals in real life, our work calendar(s) are usually on another service like Google or Outlook. With third party calendar syncing Atomcal will combine your gaming and work life, so you can decide when to play and when to work in an easy to use calendar interface!
Desktop app
Atomcal desktop app is also in development and will be shipped very soon.